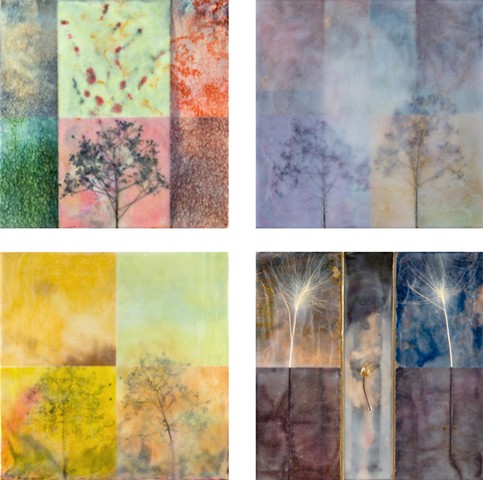 Lauren Lipinski Eisen
Juror, Contemporary Encaustic 2017

Containment/ Plume Rise/ Crown Fire/ Firelight


Encaustic, paper, grasses, smokebush, and clematis pod on wood
"My mixed-media paintings investigate the visual merging of separate moments in time into single images. Unified views are divided into translucent sections through the use of differentiated colors and materials, representing stages of visual phenomenon and time.sequences.
In the Wildfire series, these divisions represent time paradoxes present in the stages of an ongoing wildfire: in the aftermath of what seems such a destructive event, forest regrowth begins a new cycle of rebirth for many species. In this cycle of regeneration that occurs in the wake of wildfires, such as those that have raged in Colorado over the last several summers, the destruction is ultimately succeeded by regrowth. These wildfire events are filled with incredible visual phenomenon but also much devastation and loss of lives, homes, and air quality."
Lauren Eisen leads the Painting program for the School of Art and Design at the University of Northern Colorado. Lauren received an M.F.A. in Painting from Tulane University and a B.F.A. in Fine Arts from Columbus College of Art and Design.
The four pieces in the Quadtych above are listed individually in Lauren's Artist section in the drop-down menu.